A collection of news articles about how schools, airports and other places are being made safer for everyone.
BOB

Ninety minutes after taking off from Sydney Airport, a flight attendant on a United Airlines flight bound for Los Angeles found an airsickness bag - presumably unused - in a lavatory with the letters "BOB" written on it.
The flight attendant decided that the letters stood for "Bomb On Board" and immediately alerted the captain, who decided the risk was serious enough to turn the plane around and land back in Sydney.
Source: The Sydney Morning Herald, August 2, 2004

Scissors found in backpack

A 10-year-old girl was arrested and taken to a police station in handcuffs after a pair of scissors were found in her backpack in school. She did not threaten anyone in any way - the scissors stayed in her backpack and were found accidentally during a search - but the offense was deemed serious enough for her to be arrested and get a five day suspension from school, which was amended to two days after protests. "My daughter cried and cried," the mother told a Philadelphia newspaper. "She had no idea what she did was wrong."
Source: USA Today, December 13, 2004

Boy finds pocketknife

On his way to school, a 14-year-old boy found a Swiss army knife in his pocket. As soon as he arrived, he turned it in to the office, explaining that he had brought it to school by mistake. The principal suspended the eight-grader for the maximum 10 school days as allowed by law and recommended that he be expelled. The student has always had good grades, has participated in a variety of school activities and has never had any other disciplinary matter arise against him in his school years.
Source: The Indianapolis Star, April 3, 2006

Bugs Bunny sparks security alert

A girl of six triggered a security scare at an airport – with a pink Bugs Bunny water pistol rammed full of sweets. Kelly Vinnicombe was bought the £2.50 toy in the departure lounge by her mother Sarah, and packed it in her bag. But, as they went through the X-ray security machine, guards hauled them to one side. Ms Vinnicombe, 34, was told the toy was technically a 'weapon' and would have to be registered at the firearms desk. She spent an hour explaining where the gun came from – just metres away in an airport shop – before the toy was tagged and packed in a separate part of the plane. Ms Vinnicombe, of Plymouth, Devon, said: 'It's bright pink with Bugs Bunny on it.' The pair were reunited with their cargo at Heathrow Airport after an 11-hour flight. A Cape Town airport spokeswoman insisted: 'It's is better to be safe than sorry.'
Source: metro.co.uk, June 14, 2006

6-year-old Unknowingly Brings Butter Knife to School

Ethan Gray, who is 6, said he brought his book bag to school on Monday, but when he set it down, one of his family's butter knives fell out onto the cafeteria floor. A teacher walked up to question him. Gray told the teacher he wasn't sure how the knife got there. His family thinks his 4-year-old brother, Ben, put it there. The school now plans to give the boy a one-day in-school suspension as part of its "no tolerance" weapons policy. Law enforcement was contacted in the case. Omaha Public Schools said the boy could have been expelled.
Source: KETV.com, September 27, 2005

Textbooks suggested as shooting shield

Republican Bill Crozier of Union City said that if elected, he will require that used textbooks be placed under every student's desk for self-defense during a school shooting. Crozier said thick textbooks will stop bullets shot from weapons wielded by school intruders. "People might think it's kind of weird, crazy," said Crozier, a teacher and former U.S. Air Force security officer. "It is a practical thing, it's something you can do. It might be a way to deflect those bullets until police go there."
Source: wfaa.com, October 19, 2006

Cake Knife Gets Girls Suspension

The trouble started when the girls brought a cake to school and looked for a knife to cut it. They say they found a butter-type knife in the school's band room and tried to return it, but the door had since been locked. One of the girls put the knife in her book bag. Then a teacher saw it. "He said it really didn't matter that it was used for a cake," Pickens said. "[He said] it's a knife on school grounds, and you have to be written up for it -- you ought to be glad we didn't have you arrested." Both girls accepted the 10-day suspension, volunteering at a homeless shelter during that time, but they and their parents think this is a case of zero tolerance gone overboard.
Source: wsbtv.com, May 14, 2005

10-Year-Old's Bandana Causes Controversy

Lydia Smith was wearing a bandana, decorated with peace signs, smiley faces and flowers. A security guard approached her at the food court and said the bandana violated the mall's code of conduct, which is "wearing apparel which is likely to provide a disturbance or embroil other groups or the general public in open conflict."
Source: kctv.com, June 22, 2006

San Francisco-bound flight diverted

Federal authorities diverted a San Francisco-bound United Airlines jet to Dallas as a precautionary security measure on Monday after finding an unclaimed BlackBerry on board. Transportation Security Administration spokeswoman Yolanda Clark described the jet as secure and said it was diverted to Dallas "out of an abundance of caution." She said there was no indication that the hand-held computer was being used as an explosive device or trigger.
Source: Houston Chronicle, September 11, 2006

First-Grader Suspended Over Plastic Squirt Gun

6-year old Tawann was suspended over an orange 2-inch plastic squirt gun. According to Kansas City, Mo., School District policy, the squirt gun is a simulated weapon and a class IV, which is the most serious school offense. Principals claim to have no discretion in cases like Tawaan's. It is an automatic 10-day suspension.
Source: Newsnet5.com, September 20, 2006

The war on moisture

The New Zealand Herald reported today Tui Russell, a 43-year-old Auckland chef, was told by check-in staff at Auckland last month he could not take his clearly-labelled diabetes medication on board because it was dangerous. He had a severe attack on the flight and was hospitalised for two weeks after falling into a coma shortly before landing at Christchurch Airport.
Source: stuff.co.nz, November 1, 2006

More war on moisture

Majorca's famed ensaimada pastries gave airport security staff a two-day headache as they struggled to determine whether a jam filling constituted a liquid which would therefore fall foul of anti-terror restrictions, Spanish media reported.
Source: breitbart.com, November 8, 2006

Hug lands 4-year-old in suspension

The Nov. 13 letter from La Vega Independent School District stated that the boy, who was 4 years old at the time, was involved in "inappropriate physical behavior interpreted as sexual contact and/or sexual harassment" after the boy hugged a teacher's aide and "rubbed his face in the chest of (the) female employee" on Nov. 10. The boy spent the day in in-school suspension (ISS) as punishment for the incident.
Source: Waco Tribune-Herald, December 10, 2006

Maryland 5-Year-Old Accused Of Pinching Buttocks

A father in Maryland says his 5-year-old son knows nothing about sex, but the boy was written up for sexually harassing a kindergarten classmate. Washington County school officials told Charles Vallance that his son pinched a girl's buttocks earlier this month in a hallway at Lincolnshire Elementary School. The school says that meets the state's definition of sexual harassment. Vallance says his son was only playing around and had no sexual intent. School officials say the incident will remain in the boy's file until he goes to middle school.
Source: kutv.com, December 20, 2006

Boy Becomes Ill After Airport Security Check

Following new rules requiring passengers to take a drink of any beverages they are taking aboard aircraft, a boy was asked to drink the Rocky Mountain stream water he had brought for a biology project. He fell ill and missed two days of school before seeing a doctor. Health officials said that stream water, particularly in the springtime, is known to cause giardia or salmonella because of an increase of parasites in the water. "I'm all for security", comments the father. "But I'm not for stupidity."
Source: The Denver Channel, 2002

School Bans Hugging for Safety Reasons

A junior high school in Iowa City has banned hugging on campus, because girls would hug in groups and stop the flow of traffic during passing periods. Principal Deb Wretman said they have now instituted a strict hands-off or handshake policy at the Iowa City school. She said it's safe and efficient. "The reason that we have the hands-off handshakes is really a, 'Lets move through the halls during passing time, do it safely and efficiently,'" Wretman said.
Source: Local6.com, December 22, 2006

Student Arrested for Making Videogame Map of School

A student at the Houston-area Clements High School was arrested, sent to an "Alternative Education Center" and banned from graduation after school officials found he created a video game map of his school. School district police arrested the teen and searched his home where they confiscated a hammer as a potential terrorist weapon. A fellow student was quoted as saying "If somebody can make a map like that of the whole school, I mean, it does kind of scare me a little bit, and make me wonder, you know, what else they could do."
Source: Houston Chronicle, May 2, 2007

Peace T-shirt gets man arrested

A lawyer was arrested late Monday and charged with trespassing at a public mall in the state of New York after refusing to take off a T-shirt advocating peace that he had just purchased at the mall. According to the criminal complaint filed Monday, Stephen Downs was wearing a T-shirt bearing the words "Give Peace A Chance" that he had just purchased from a vendor inside the Crossgates Mall in Guilderland, New York, near Albany. "I was in the food court with my son when I was confronted by two security guards and ordered to either take off the T-shirt or leave the mall," said Downs. When Downs refused the security officers' orders, police from the town of Guilderland were called and he was arrested and taken away in handcuffs, charged with trespassing "in that he knowingly enter[ed] or remain[ed] unlawfully upon premises," the complaint read.
Source: CNN / Reuters, March 6, 2003

Terrorist grandmother's evil plans foiled

Cecilia Beaman, a 57-year-old grandmother and a principal at Pacific Middle School in Des Moines, took 37 middle school students to a Heritage Festival band competition in California. During the stay she made sandwiches for the kids and was careful to pack the knives she used to prepare those sandwiches in her checked luggage. But on the trip home, screeners with the Transportation Security Administration found a third bread knife which she thought she'd lost. "You've committed a felony," a security screener announced. "And you're considered a terrorist." Beaman says she was told her name would go on a terrorist watch-list and that she would have to pay a $500 fine. She was refused paperwork or documentation of her violation by a screener who explained that "at this point, you don't have any constitutional rights".
Source: Komotv.com, June 18, 2007

One less evil clown

A clown has had the smile wiped off his face after being told he couldn't use balloons in his act because children might be allergic to latex. The 47-year-old entertainer, also known as Tony Turner, has previously had to ditch his bubble-making machine because he could not get public liability insurance as companies assessed that youngsters might slip and hurt themselves. He said he was also told by one venue he could not twist balloons into the shape of guns for fear of encouraging youngsters to commit violence. "At this rate I will have no act left. Things are going from crazy to ridiculous."
Source: Agence France-Presse, August 14, 2007

Boy suspended for gun-like sketch

School officials suspended a 13-year-old boy for sketching what looked like a gun, saying the action posed a threat to his classmates. The boy's parents said the drawing was a harmless doodle and school officials overreacted.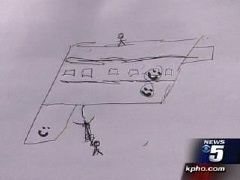 The drawing did not show blood, bullets, injuries or target any human, the parents said. And the East Valley Tribune reported that the boy said he didn't intend for the picture to be a threat. Administrators of Payne Junior High in nearby Chandler suspended the boy on Monday for five days but later reduced it to three days.
Source: USA Today, August 23, 2007

Evil girl with cake thwarted

School security guards in Palmdale, CA have been caught on camera assaulting a girl and breaking her arm over a piece of dropped birthday cake. 16-year-old Pleajhai Mervin was bumped while queuing for lunch and dropped some cake. After being ordered to re-clean the spot three times, she attempted to leave the area out of embarrassment but was jumped on by security who yelled "Hold still, nappy-head!" and forced her onto a table, breaking her wrist in the process. The school expelled Pleajhai for five days before then having her arrested for battery and for littering (the dropping of the cake). They also arrested the pupil who captured the video along with his sister who was merely present at the scene.
Source: myfoxla.com, September 28, 2007

No more lewd Santas

Santas in Australia's largest city have been told not to use Father Christmas's traditional "ho ho ho" greeting because it may be offensive to women. Sydney's Santa Clauses have instead been instructed to say "ha ha ha" instead, the Daily Telegraph reported. One disgruntled Santa told the newspaper a recruitment firm warned him not to use "ho ho ho" because it could frighten children and was too close to "ho", a US slang term for prostitute.
Source: AFP, November 14, 2007

Terrorist student expelled

Student T. Hayden Barnes was expelled from Valdosta State University in Georgia for having threatening images on his Facebook profile. A letter informed him that he was considered "a clear and present danger to this campus", based on the following evidence: A collage of a bulldozer and a parking garage, a link to a digital video contest whose accompanying ad read "Shoot it. Upload it. Get famous. Project Spotlight is searching for the next big thing. Are you it?", and a Facebook status update that read "T. Hayden Barnes is cleaning out and rearranging his room and thus, his mind, or so he hopes". The letter also said that in order to return as a student, a non-university psychiatrist would have to certify that Barnes was not a threat to himself or anyone else, and that he would receive "on-going therapy." After he appealed, with endorsements from a psychiatrist and a professor, the Georgia Board of Regents didn't reverse the expulsion. "Sometimes there will come along a set of facts where you read it and you think, they couldn't possibly have done this," said Robert Corn-Revere, Barnes's attorney. "Then you look at it [and realize that] yes, they did."
Source: insidehighered.com, January 11, 2008

Terrorist teenagers with feeding tubes

James Hoyne, 14, has a feeding tube in his stomach and carries a back-up in a sealed clear plastic bag. Hoyne said two weeks ago a TSA officer insisted on opening the sterile equipment, contaminating his back-up feeding up tube which he later needed.
"I said 'Please don't open it' and she said 'I have to open it whether you like it or not. If I can't open it, I can't let you on the plane.'" TSA officials are looking into the incident.
Source: wftv.com, March 6, 2008

Sleeping is important, why can't you understand that?

The parents of two Bronx preschoolers are suing the city, charging that their kids were tossed out of class - and handcuffed by a school-safety officer - for refusing to take a nap. The officer, dressed like a cop, entered the room, cuffed the boys' wrists - and further terrified them by telling them that they would never see their parents again. "You know what happens when you don't go to sleep in there? . . . 'When you go to jail, you're not going to have no fun, no TV, no toys."
"I wasn't shot, but my hands were tied," Christopher, now 5, recalled, according to his mother, Vasso Brito, a 34- year-old office worker - who says the little guy is now scared of police officers. The boys' claims recall two other recent cases. In one, a mentally challenged 10-year-old Brooklyn girl said a school-safety officer handcuffed her outside school. In the other, a 5-year-old Queens boy said a school-safety officer snapped the cuffs on him inside his school.
Source: newyorkpost.com, March 10, 2008

No ibuprofen for you

Vice Principal Kerry Wilson found a few 400-milligram ibuprofen pills (each equivalent to two over-the-counter tablets) and one nonprescription naproxen tablet in the pockets of a student named Marissa, who claimed Savana was her source.
Savana, a 13-year-old honors student with no history of disciplinary trouble or drug problems, said she didn't know anything about the pills and agreed to a search of her backpack, which turned up nothing incriminating. Wilson nevertheless instructed a female secretary to strip-search Savana under the school nurse's supervision, without even bothering to contact the girl's mother.
"I was embarrassed and scared," Savana said in an affidavit, "I held my head down so they could not see I was about to cry." She called it "the most humiliating experience I have ever had." Later, she recalled, the principal, Robert Beeman, said "he did not think the strip search was a big deal because they did not find anything."
As the American Civil Liberties Union puts it, "There was no reason to suspect that a thirteen-year-old honor-roll student with a clean disciplinary record had adopted drug-smuggling practices associated with international narcotrafficking, or to suppose that other middle-school students would willingly consume ibuprofen that was stored in another student's crotch."
Source: Reason Online, April 2, 2008

Gunman foiled

A 1.75-inch silver pendant in the shape of an antique Colt 45 pistol almost landed Marnina Norys in jail on Monday. The 39-year-old Toronto resident was caught by Kelowna Airport security wearing the pendant on a chain around her neck. "That's censorship, not security," an incredulous Norys said before she was told she would have to put the necklace in her checked baggage.
"How do you know it wasn't a real gun?" asked Guy, a security agent with the Canadian Air Transport Security Authority, who also declined to provide his last name. "Who knows if there is a gun that small that can shoot bullets? You don't know that. They followed the rules."
On hearing the story from Norys, pendant creator Calvin Dana Munroe of Bad Ass Jewellery in Toronto said: "What if someone had a gun tattooed on their neck? It's about as dangerous."
Source: The Daily Courier, May 28, 2008

Pilot idiotically tries to bring airplane-approved cutlery aboard plane

Patrick Smith, a pilot in full uniform, tried to bring a spare set of airline-issue cutlery aboard an airplane -- the exact kind given to every person on the flight with their meals. TSA staff confiscated it and threw it away. He went to see a supervisor, who claimed that the butter knife had to be disposed of because it was serrated. In disbelief, realizing that he wasn't getting his knife back, Smith tried to get the supervisor to at least agree that it was a stupid rule. The supervisor insisted that the rule made sense and asked Smith to leave.
Source: Salon Magazine, July 11, 2008

TSA inspector damages nine airplanes

Nine American Eagle airplanes were grounded Tuesday after a TSA inspector, conducting an overnight security check, used sensitive instrument probes to climb onto the parked aircraft at Chicago's O'Hare Airport. A TSA official confirmed the incident. Pilots were furious at the TSA misstep. "The brilliant employees used an instrument located just below the cockpit window that is critical to the operation of the onboard computers," one pilot wrote on an American Eagle internet forum. "They decided this instrument, the TAT probe, would be adequate to use as a ladder." Another pilot wrote the TSA agents, "are now doing things to our aircraft that may put our lives, and the lives of our passengers at risk." The TSA has been conducting such overnight spot checks at airports around the country.
Source: ABC News, August 19, 2008

Gang member caught following instructions

Fifth-grader Jordan Hood was assigned to draw a scary Halloween mask in art class. Jordan drew a scarred vampire with bloodshot eyes and with blood dripping from its nose, mouth and down its cheeks. Art teacher Lloyd Harold helped the boy shade the sketched eyes to give the drawing an even creepier look. When Jordan's homeroom teacher saw the drawing, she found it disturbing and contacted the assistant principal and Campus Police. By the end of the day, Jordan was being told he could not return to Pooler Elementary School until he passed a psychological evaluation.
Jordan's mother, LaKisha Hood, was shocked to find that her son's art lesson had evolved into a gang investigation. "They told me the droplets could actually be a gang symbol for the number of people he killed," she said.
Source: Savannah Morning News, October 31, 2008

Catastrophe averted

Midwest Airlines canceled a flight ready to take off for San Francisco after a passenger found Arabic-style handwriting in the company's in-flight magazine and alerted the crew. The plane, carrying 118 passengers and five crew members, had already pulled away from the gate at Mitchell International Airport on Sunday evening. It returned to the gate, the passengers got off, security authorities were notified, all luggage was checked and the aircraft was inspected. Nothing was found.
The writing was in Farsi, the language used in Iran, said airline spokeswoman Carol Skornycka. She said she didn't know exactly what the writing said but was similar to a prayer, "something of a contemplative nature."
Source: USA Today, September 21, 2004

Knife-wielding lunatic apprehended

A 17-year-old Eagle Scout in upstate New York has been barred from stepping foot on school grounds for 20 days — for keeping a 2-inch pocketknife, a gift from his police chief grandfather, locked in a survival kit in his car.
The incident is similar to the case of Zachary Christie, a 6-year-old Cub Scout in Delaware who faces up to 45 days in his district's reform school for bringing a scout utensil that can be used as a fork, spoon and knife to school. But for Whalen — who has received an award from the Boy Scouts of America for saving a life and completed 10 weeks of basic military training last summer — the stakes are much higher: He is concerned that the blot on his school record could kill his dream of attending West Point.
Source: Fox News, October 13, 2009

No excuses for armed ex-soldier

Paul Clarke, a former soldier, found a gun in his back yard which he brought to Reigate police station, after first calling them. He was then immediately arrested for possession of a firearm, and taken to the cells. Possession of a firearm is a "strict liability" charge, meaning that his honest intent was irrelevant. He now faces a minimum of five years' imprisonment for handing in the weapon. In a statement read out in court, Mr Clarke said: "I didn't think for one moment I would be arrested. I thought it was my duty to hand it in and get it off the streets."
Source: thisissurreytoday.co.uk, November 14, 2009

Safe return of couple averted

Joshua Kelly and Llara Brook got lost leaving an Orioles game on Saturday. They tried asking a Baltimore City police officer for directions, but got the response 'You found your own way in here, you can find your own way out.' Spotting another police vehicle, they tried asking another officer, but the first one intervened and stopped them. When Brook then called her parents for directions, the officer arrested them for trespassing on a public street.
"I obeyed everything -- stepped out of the car, put my hands behind my back, and the next thing I know, I was getting arrested for trespassing," Kelly said. "In jail for eight hours -- sleeping on a concrete floor next to a toilet."
The couple was released from jail without being charged with anything. Brook is now concerned the arrest may complicate a criminal background check she's going through in her job as a child care worker. Collins said police left Kelly's car unlocked and the windows down at the impound lot. He reported a cell phone charger, pair of sunglasses and 20 CDs were stolen.
Source: wbaltv.com, May 17, 2006

Door opened at school

A Southampton Middle School student was suspended Thursday for opening an exterior door for a visitor. According to an e-mail sent to The Tidewater News, the "A" student opened the door for a woman he knew, who had her hands full. A districtwide policy prohibiting students and staff from opening doors to the outside was recently adopted after a $10,800 security system was installed at the middle school.
Source: tidewaternews.com, February 26, 2011

Terrorist threat averted

A 5-year-old girl was suspended from Mount Carmel Area Elementary School in Pennsylvania after she made what the school called a "terrorist threat."
The kindergartner caught administrators' attention after she suggested she bring her Hello Kitty automatic bubble blower from home so she and a classmate could shoot each other with bubbles. She was ordered to undergo a psychological evaluation during her 10-day suspension, which was later reduced to two days. The evaluation deemed the girl normal and not a threat to others.
The mother has tried to get the girl in another school, and they won't take the little girl because of this mark on her record. The girl's family is considering a lawsuit against the school.
Source: ABC News, January 20, 2013

Kid nearly chews Pop Tart into a mountain

Park Elementary School second-grader, Josh Welch, 7, was suspended for two days for trying to bite his Pop Tart into the shape of a mountain, resulting in a shape that his teacher thought looked like a gun.
Source: bizpacreview.com, March 2, 2013

Deaf 3-year-old disrupts school district by signing his name

A deaf 3-year-old from Nebraska is being asked by the school district to change his name, his family alleges, because the way he refers to himself in sign language resembles "weapons." Apparently the Grand Island school district has a policy that prevents students from bringing "any instrument…that looks like a weapon" to school, and now hands can be considered "instruments."
Hunter signs his name by crossing his middle and index fingers– leaving his thumbs up– and then wagging his hands. Brian Spanjer, the boy's father, added: "It's a symbol. It's an actual sign, a registered sign, through S.E.E. [Signing Exact English]"
Administrators say the issue has nothing to do with guns or weapons, just that the gesture is "not an appropriate thing to do in school."
Source: theblaze.com, August 28, 2012
School shooting avoided during virtual art class
Isaiah Elliott, a 12-year-old boy who lives in Colorado Springs, Colorado, is fond of his neon green Nerf gun — which has the words "ZOMBIE HUNTER" written on it.
Last week, during a virtual classroom session, Elliott briefly picked up his toy gun, causing it to appear on screen for just a few seconds. This was noticed by his teacher, who promptly alerted the authorities. As a result, the police paid a visit to Elliott's home and the school suspended him for five days. He now has a record with the El Paso County Sheriff's Office and a mark on his school disciplinary paperwork saying he brought a "facsimile of a firearm to school" — even though he was in his own home doing a virtual class.
Source: reason.com, September 7, 2020